15 Real Estate FAQs
Posted by Peter Boutros on Wednesday, June 28, 2023 at 2:35:53 PM
By Peter Boutros / June 28, 2023
Comment
As you might visualize, real estate agents field fairly a few questions every day. People are logically curious, and it's an agent's job to guide people through the often-complex world of home buying and selling. You might also think that some questions about real estate come up more frequently than others. Whether you're a first time buyer or repeat buyer who could use a reminder on how deals get done, here are some answers to the questions that come up most frequently.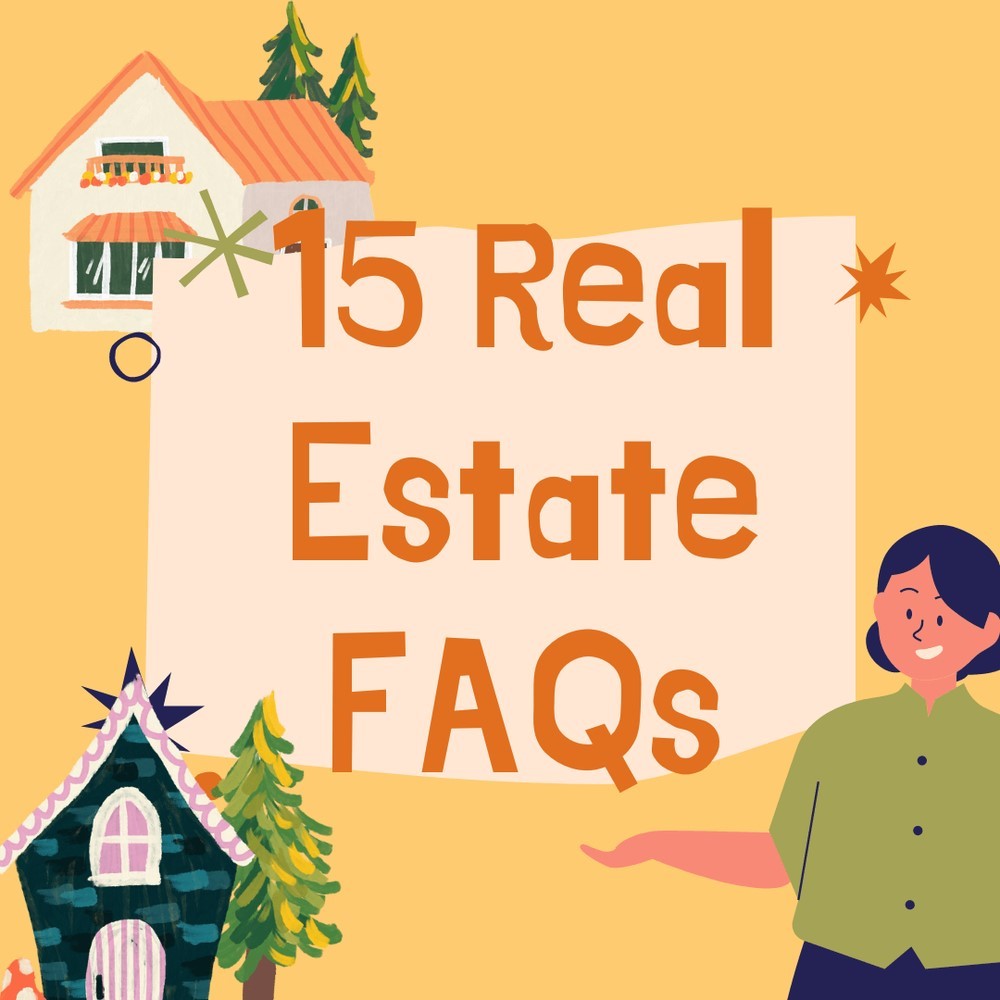 What is the first step of the home buying procedure?
Getting pre-approved for a mortgage is the first step of the home buying procedure. Getting a pre-approval letter from a bank gets the ball rolling in the right direction.
Here's the reason why:
First, you need to know how much money you can borrow. Knowing how much home you can pay for narrows down online home searching to appropriate properties, therefore no time is wasted considering homes that are not within your budget. (Pre-approvals also help avoid disappointment caused by falling in love with high-priced homes.)
Next, the loan estimate from your bank will show how much money is required for the down payment and closing costs. You may need more time to save up money, discharge other assets or seek mortgage gift funds from family. In any case, you will have a clear image of what is financially vital.
Lastly, being pre-approved for a mortgage proves that you are a serious buyer to both your real estate agent and the person selling their home.
Most real estate agents will need a pre-approval before viewing homes - this is particularly true at the higher end of the real estate market; sellers of luxury homes will only allow pre-screened (and certified) buyers to view their homes. This is intended to keep out "Looky Lous" and keep the seller's privacy. What's more, by controlling who enters their home, sellers are given extra security from possible thieves trying to case the home (like finding security systems, pinpointing expensive artwork or other high-value personal property).
How long will it take to buy a home?
From the start (searching online) to finish (closing escrow), buying a home takes about 10 to 12 weeks. Once a home is selected and the offer is acknowledged, the usual time to complete the escrow period on a home is 30 to 45 days (under normal market conditions). However, well-prepared home buyers who pay cash have been known to buy properties faster than that.
Market conditions are the most important factor in how fast homes are sold. In hot markets with a lot of transactions, buying a home may take a little longer than usual. That's because numerous parties involved in the deal get behind when business unexpectedly picks up. For an instance, a spike in home sales surges the demand for property appraisals and home inspections, yet there will be no growth in the number of appraisers and inspectors available to do the work. Lenders turn-around times for loan endorsing can also slow down. If each party involved in a deal takes a day or two longer to get their work completed, the entire procedure gets extended.
What is seller's market?
In sellers' markets, growing demand for homes pushes up prices. Here are some of the drivers that affect demand:
Economic factors – the local labor market heats up, getting an inflow of new residents and pushing up home prices before more inventories can be made.

Interest rates trending downward – improves home affordability, generating more buyer interest, mainly for first time home buyers who can pay for bigger homes as the cost of money goes lower.

A short-term spike in interest rates - may induce "on the fence" buyers to make a purchase if they consider the upward trend will remain. Buyers want to make a move before their buying power (the amount they can borrow) gets worn.

Low inventory - fewer homes on the market because of a shortage of new construction. Prices for existing homes may go up because there are less units available.
What is buyer's market?
A buyer's market is described by deteriorating home prices and reduced demand. Numerous factors may affect short-term and long-term buyer demand, like: Economic disruption - a big company shuts down operations, laying off their staff.
Interest rates trending higher – the amount of money the people can borrow to purchase a home is reduced because the cost of money is higher, therefore reducing the total number of prospective buyers in the market. Home prices fall to meet the equal number of demand and buyers find better deals.

Short-term drop in interest rates – can give borrowers a short-term edge with more buying power before home prices can respond to the recent interest rate changes.

High inventory – a new subdivision can create descending pressure on prices of older homes nearby, particularly if they lack highly required features (modern appliances, etc.)

Natural disasters - a recent flooding or earthquake can tank property standards in the neighborhood where those disturbances happened.
What is a stratified market?
A stratified market occurs where demand and supply characteristics differ by price point, in the same area (normally by city). For an instance, home sales for properties above $1.5M may be abrupt (seller's market) while homes under $750k may be slow (buyer's market). This situation comes along very frequently in West Coast cities where international investors - looking to park their money in the United States - buy luxurious real estate. At the same time, home sales activity in mid-priced houses could be completely different.
How much do I need to pay a real estate agent to help me buy a house?
Home shoppers pay little, sometimes no fees to a real estate agent to buy a home.
Here's the reason why:
For most home sales, there are two real estate agents involved in the agreement: one that represents the seller and the other one who represents the buyer.
Listing brokers embody sellers and charge a fee to represent them and market the property. Marketing may consist of advertising expenses such as print ads, radio spots, internet ads and television. The property will also be positioned in the local multiple listing service (MLS), where other agents in the region (and nationally) will be able to search and find the home for sale.
Agents who embody buyers (a.k.a. buyer's agent) are rewarded by the listing broker for getting home buyers to the table. When the home is sold, the listing broker splits the listing charge with the buyer's agent. Therefore, buyers don't pay their agents.
What credit score do I need to buy a home?
Most loan programs need a FICO score of 620 or higher. Borrowers with greater credit scores signify less risk to the lender, often causing a lower down payment condition and better interest rate. On the other hand, home shoppers with lower credit scores may need to bring additional money to the table (or take a higher interest rate) to balance the lender's risk.
How much do I need for a down payment?
The national average for down payments is 11%. But that figure includes first time and repeat buyers. Let's take a closer look.
While the broad down payment average is 11%, first time homebuyers usually only put down 3 to 5% on a home. That's because several first-time home buyer programs don't require big down payments. A longtime favorite, the FHA loan, requires 3.5% down. What's more, some programs allow down payment contributions from family members in the form of a gift.
Some programs require even less. VA loans and USDA loans can be made with zero down. However, these programs are more restrictive. VA loans are only made to former or current military service members. USDA loans are only available to low to-middle income buyers in USDA-eligible rural areas.
For many years, conventional loans required a 20% down payment. These types of loans were typically taken out by repeat buyers who could use equity from their existing home as a source of down payment funds. However, some newer conventional loan programs are available with 3% down if the borrower carries private mortgage insurance (PMI).
Do I need to sell my existing home before buying a new one?
If the built-up equity in your existing home will be applied to the down payment on the new home, logically the former will essentially be sold first.
Some home buyers choose to turn their existing home into an investment property, renting it out. In that case, the existing home will not require to be sold. On the other hand, your loan advisor will still need to assess your risk profile and credit history to decide whether making a loan on a new home is feasible while holding title to the old home.
Buyers frequently have a short time frame to sell their existing home when relocating to a new city because of a job allocation. If you are moving but taking a position with the same employer, check to see if they offer relocation assistance to help balance some of the expenses.
How many homes do I need to view before buying one?
That's up to you! Certainly, home shopping nowadays is easier than ever in the past. The capability to look for homes online and see pictures, even before setting a foot outside the comfort of your living room, has totally changed the home buying game. Suitability is at an all-time high. However, not anything can beat visiting a home to see how it feels and looks in person.
What is an earnest money?
When you make a proposal on a home, your agent will request for a check to accompany it (checks are the same as cash, and the deposit is usually 1% to 2% of the purchase price). Earnest money is made in good faith to determine - to the seller - that the buyer's offer is honest. Earnest money basically takes the home off the market to somebody else and reserves it for you.
The check (or occasionally cash) is put in a trust or escrow account for safekeeping. If a deal is struck, the earnest money is applied to the closing costs and down payment. If the deal falls over, the money is returned to the buyer.
Reminder: if the terms of a deal are settled upon by both parties, but then the buyer backs out, the earnest money may not be refunded to the buyer. Ask your agent about the ways to keep your earnest money deposit and the ways to protect it – such as offer possibilities.
How long should I wait for the seller to respond to my offer?
Written offers should specify the timeframe in which the seller should answer. Giving them twenty-four hours should be enough.
What if my offer got rejected?
Sellers can flat-out reject or accept an initial offer. But there is a third path that is fairly common, sellers can start a counteroffer. Remember this: a deal isn't over until it's dead. So, if a counteroffer is presented by the seller, you're still in the game. You and your agent just need to analyze it to conclude whether the counteroffer is acceptable. If so, then approving it ends the deal instantly. Keep in mind, counteroffers and offers can go back-and-forth several times; this is not uncommon and negotiations are a portion of what Realtors do as a matter of routine. Each adjustment should bring both parties closer together on the terms of the deal.
Should I request a home inspection?
Certainly! Home inspections are essential if you are planning on financing your home with a VA or FHA loan. For other mortgage programs, inspections are not necessary. Though, home inspections are highly suggested because they can expose flaws in the home that are not easily noticed. Home inspections bring peace of mind to one of the prime investments of a lifetime.
Do I have to do a final walk-through?
It's not mandatory, but it's a really good idea! Final walk-throughs provide buyers a chance to make sure nothing has altered since their first visit. If repairs were demanded, as part of the offer, a follow-up visit guarantees that everything is squared-away, as expected, per the terms of the contract.